Following in the footsteps of Jonathan Glazer and Barry Akroyd for their incredible work on Canon, we were lucky enough to lure the immensely talented Marcus Söderlund at Academy Films to direct this award-winning spot.
By harnessing the brutality of winter, and placing nature's elements front and foremost, we created a 90" spot for cinema and online, with shorter edits to air across Europe in time for Christmas camera wish lists. Add to that an informative behind-the-scenes film, a Canon Ambassador photoshoot, and a series of 'how-to' films to inspire people with the principles of winter photography – we kept the conversation around photography buzzing from November to February.
Canon Ambassador photo-shoot
 
We surrounded the release across digital and print by bringing Franco Moro's adventure to life in a series of still photographs. Working with Richard Walch, one of Canon's most celebrated ambassadorial sports photographers, we ensured that the powerful Canon equipment was demonstrated to the very limits of it's capabilities by capturing the crisp, brutal nature of Winter.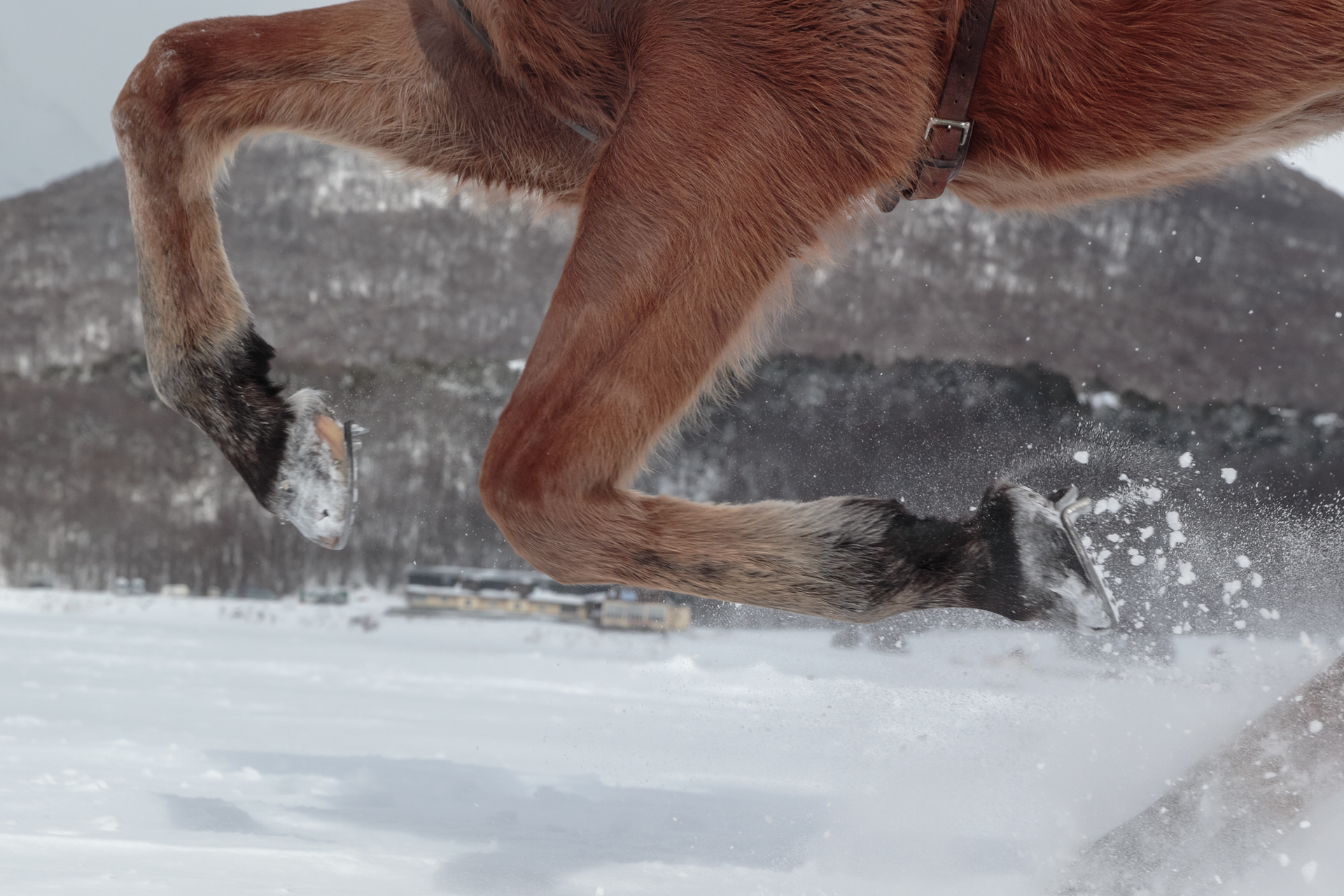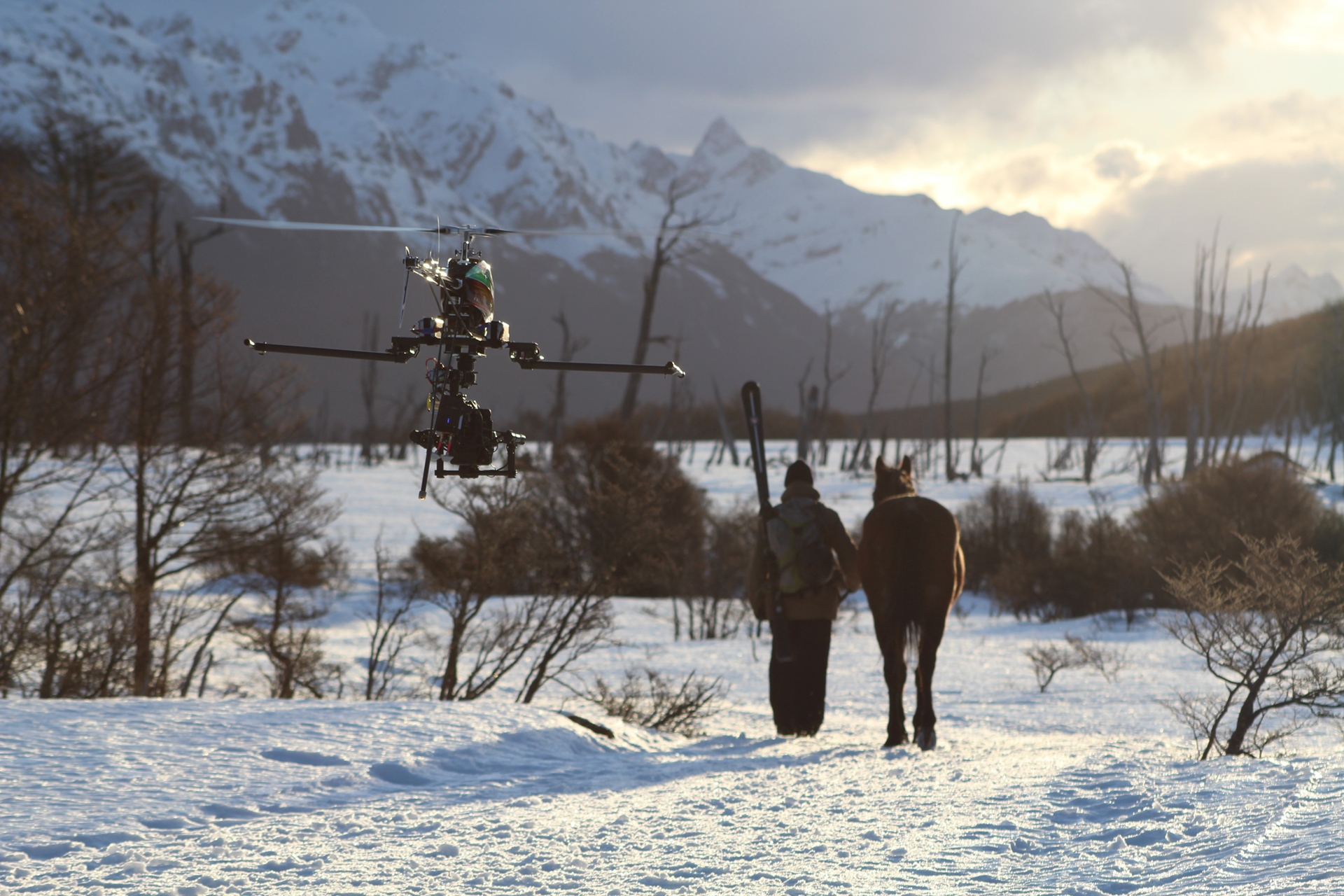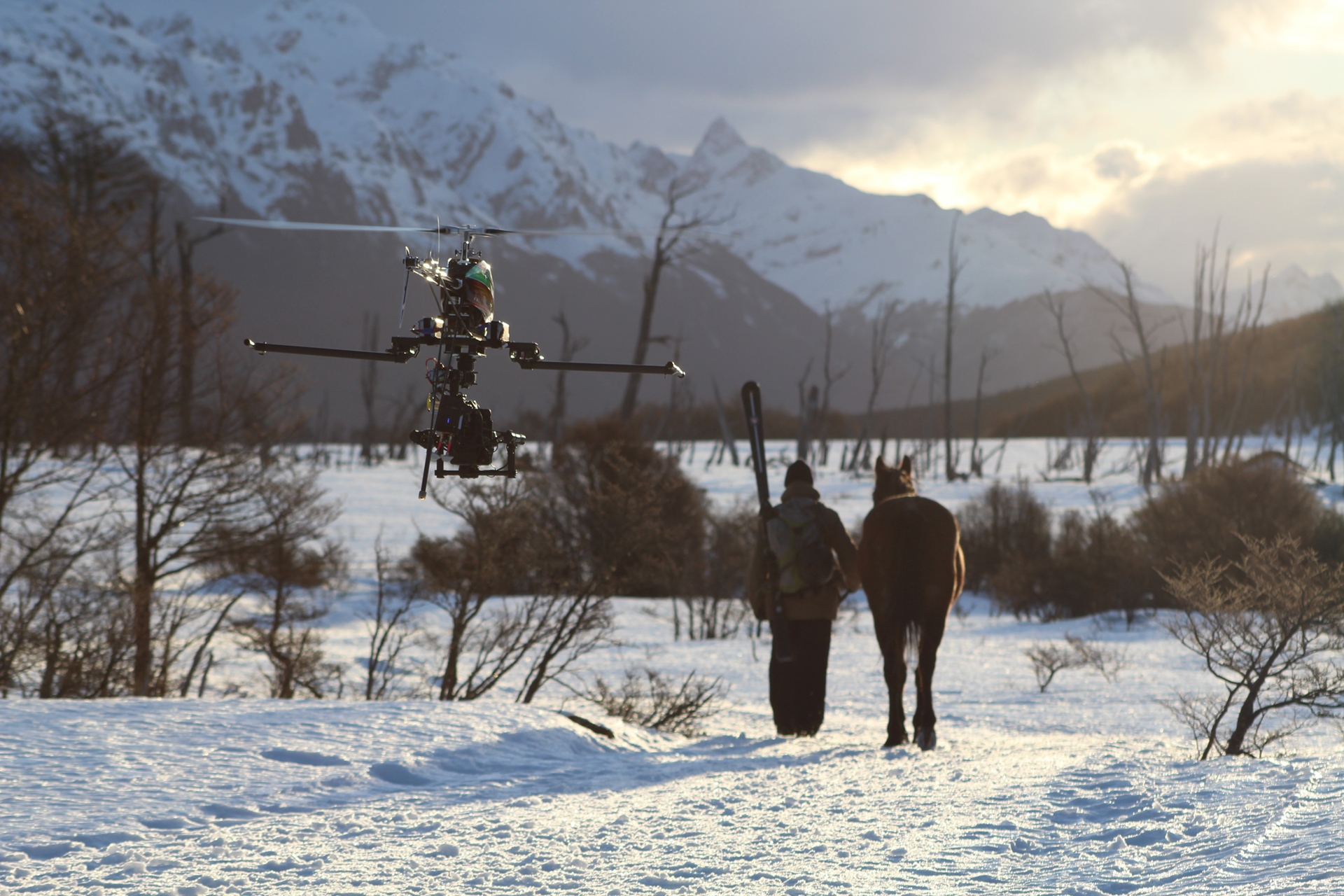 As we were shooting in such a unique environment – Ushuaia in Patagonia – which the locals decribe as the end of the Earth, we took time to focus on the team and their equipment. This gave us further insight into the benefits of using Canon at a professional level, to inspire amateurs and existing film-makers alike.
The ad generated a huge amount of attention for Canon (and JWT) socially, in the industry press and beyond.
Marcus rightfully retained his place in Campaign Magazine's Top 10 Directors to watch. The buzz was a terrific, unexpected reward for the spectacular effort that everyone put in over just one day's shooting, and a whole lot of flying.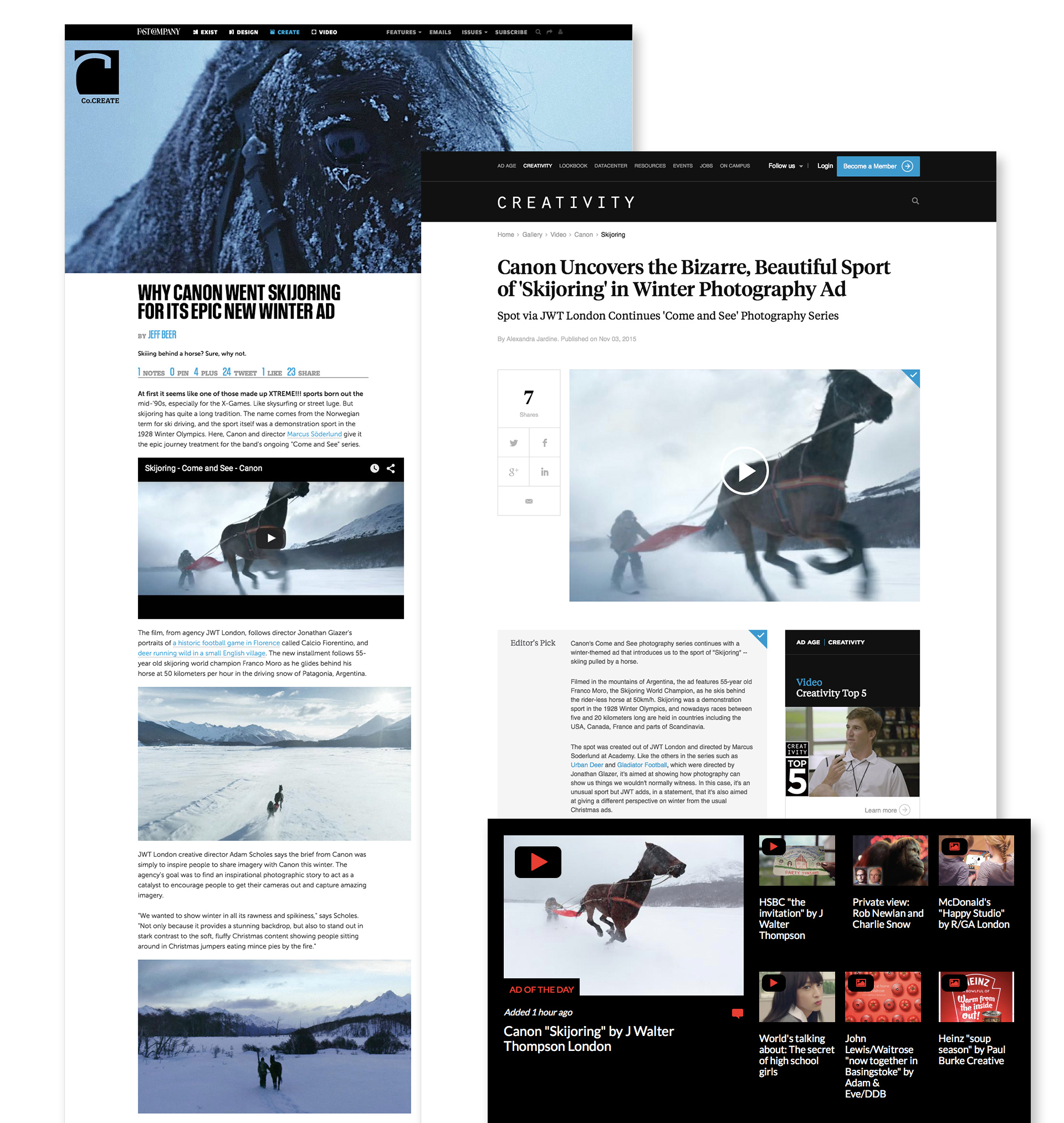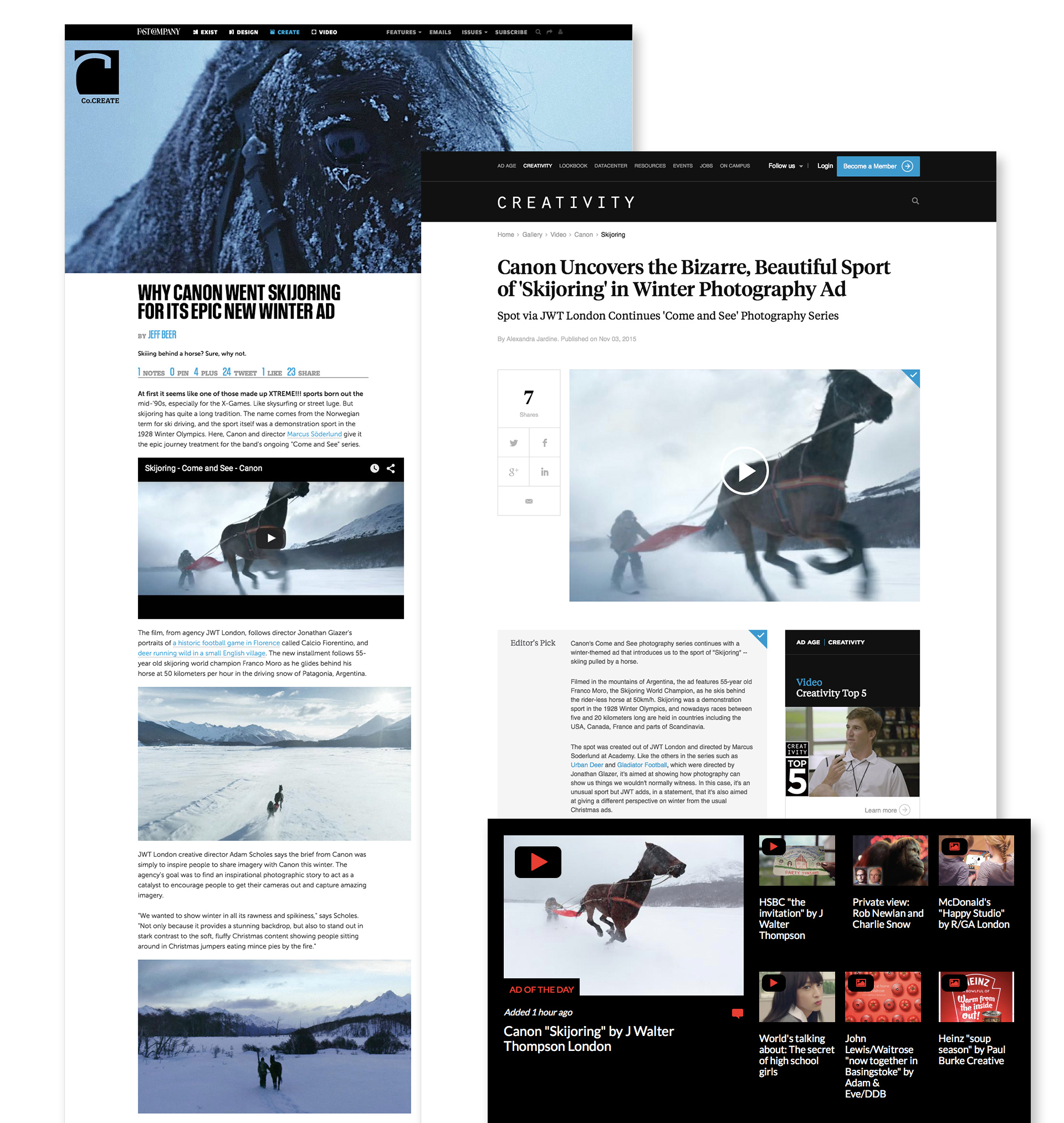 Agency – JWT
Executive Creative Director — Russell Ramsey
Art Director — Murray Allan
Copywriter — Charlie Gee
Director – Marcus Soderlund
Sound – Sam Ashwell @ 750mph
Edit – Thomas Grove Carter @ Trim
Music – Tom Player
Gold – Film craft (Sound Design) Cristal Festival,  December 2016
Silver – International Film Craft (Sound Design) Kinsale Sharks, September 2016
Silver - Film craft (Sound Design) Creative Circle, May 2017
Bronze – Film Craft (Sound Design) CICLOPE Festival, November 2016